Request a Demo   Plans and PricingSmart & Intuitive AnalyticsOur platform takes the power of machine learning and data visualization to give you clear, actionable insights on global trade.Watch Demo The World in 2020 with Panjiva Research What will 2020 hold for the global supply chain? Panjiva Research looks at what to expect from: the…
Request a Demo   Plans and Pricing
Smart & Intuitive Analytics
Our platform takes the power of machine learning and data visualization to give you clear, actionable insights on global trade.
Watch Demo
The World in 2020 with Panjiva Research
What will 2020 hold for the global supply chain? Panjiva Research looks at what to expect from: the U.S., China, and Europe; the state of numerous multilateral trade deal negotiations; the prospects for the shipping industry; and which countries have the most to win, and lose, from trade.
Find and evaluate legitimate businesses, faster
8 million companies and over 1 billion shipment records, just a few seconds away
Search for Importers and Exports
Our technology gives you immediate insight into the companies involved at every node of international supply chains. From manufacturers and buyers to shipping and logistics, Panjiva allows customers to better understand trade around the globe.
Take the data with you
Building a lead list for your sales team? Easily export the results and share them with your team to expand their reach.
Search your way
Whether you are searching for a product by name or classification, we make it easy. We support commodity name, HS / HTS code, D-U-N-S® Number, and location-based searches.
Receive periodic email alerts
Save your search and receive email alerts anytime a new company matches your search criteria, or when an existing company has new shipment activity.
A Clear View of Each Company's Activities
Information and insights from authoritative customs and business information databases melded together to give a 360 degree view of businesses worldwide.
Actionable Insights
Powerful reporting capabilities let you spot trends in the import and export activities businesses across the globe.
Top Customers & Suppliers
Discover new opportunities by seeing who does business with your peers or competitors.
Contact Information
Access the emails or phone numbers of key decision makers on over 1 million companies.
A Comprehensive View of Global Trade
We provide our clients with macro data covering 95% of global trade flows,
as well as transactional data covering 35% of global trade flows.
Armed with this data, you can decide where and when to invest.
Competitive Insights
Understand your market share by seeing where your competitors source their goods, and which entities are involved in the shipment of goods.
Risk Analysis
Use our platform to analyze trade lanes or identify which companies have the riskiest supply chains.
Sales Leads
Whether you're targeting buyers, suppliers, NVOCCs, or carriers, Panjiva makes it easy to identify the best sales prospects, learn more about their business, and make contact.
Xpressfeed™ Access Available
Use Xpressfeed™ to push leads directly into your CRM system or feed data about publicly-traded companies into your quant models.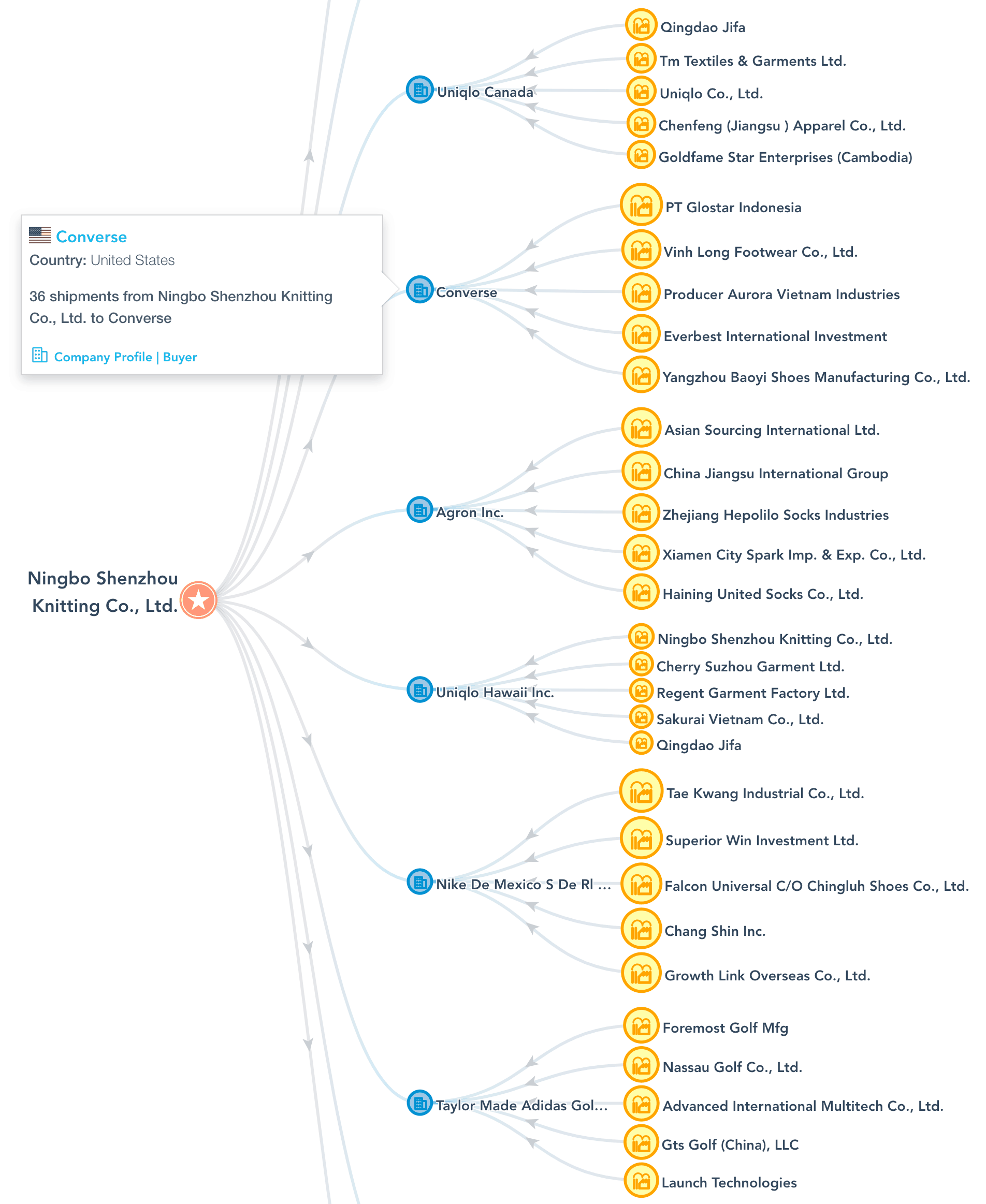 From the Press
"An apparent commitment to proceed as planned and keep the deal in place, despite China running behind schedule on purchases, may be designed to ensure minimal disruptions during the run-up to the US general elections," Panjiva analysts recently wrote. "Notably, there was no specific mention of tariffs as part of the second-term plan, despite them being central to policy execution in the first term."
From Panjiva Research
Panjiva Research took part in a webinar on Sep. 24 which looked at the outlook for European supply chains in the wake of COVID-19 and ahead of the U.S. elections and Brexit. This report summarizes the key issues and questions asked. EU trade has underperformed the global average with an 11.3%…
3,000+ companies trust Panjiva.
3,000+ companies trust Panjiva